WINNER OF THE SCBWI SPARK AWARD 2017
A Publishers Weekly Booklife "Books to Watch."
She was willing to sacrifice everything for her country. He was willing to sacrifice everything for her.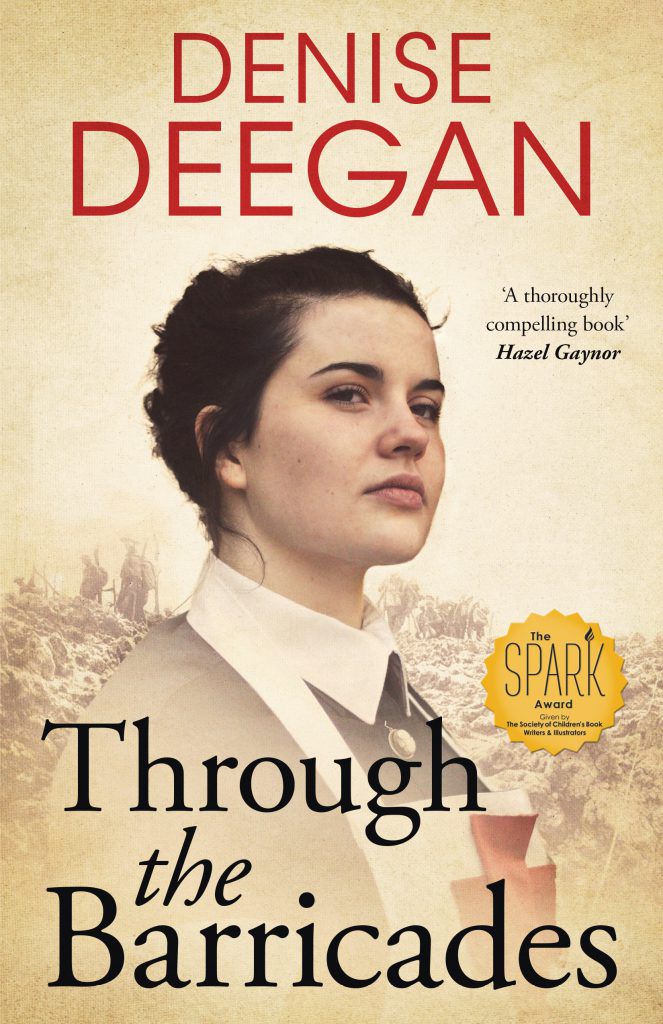 "Make a difference in the world," are the last words Maggie Gilligan's father ever says to her. She is still carrying them in her heart, years later, when she signs up to become a freedom fighter.
"Don't go getting distracted, now," is what Daniel Healy's father says after seeing Daniel with the same Maggie Gilligan. Daniel is more than distracted. He is intrigued. Never has he met anyone as dismissive, argumentative… as downright infuriating.
The story of Maggie and Daniel is one of friendship, love, war and revolution, of two people who are prepared to sacrifice their lives: Maggie for her country, Daniel for Maggie. Their mutual sacrifices put them on opposite sides of a revolution. Can their love survive?
Extract
Maggie woke coughing. It was dark but there was something other than darkness in the air, something that climbed into her mouth, scratched at her throat and stole her breath. It made her eyes sting and tear. And it made her heart stall. Flames burst through the doorway like dragon breath. Maggie tried to scream but more coughs came, one after the other, after the other. She backed up in the bed, eyes wide, as the blaze began to engulf the room. She thought of her family, asleep in their beds. She had to waken them – with something other than her voice.
She hurried from her bed, peering through flame-lit smoke in search of her jug and washbasin. Reaching them, she flung water in the direction of the fire and began to slam enamel against enamel, fast and loud. She had to back away as flames lapped and roared and licked at her. But she kept on slamming.
Her arms grew tired. Her breath began to fail her. And she felt the heavy pull of sleep. She might have given in had she been alone in the house. But there was her father. There was her mother. There was Tom. And there was David. She could not give up.
Then like a miracle of black shadow, her father burst through the flames, his head tossing and turning. His frenzied gaze met hers.
'"Maggie!'"
She began to cry with relief but relief changed to guilt as she realised that she had only drawn him further into the fire.
"No! You were meant to take the stairs. You were meant to-"
"It's all right, Maggie Mae. It's all right," he said, hurrying to her.  He scooped her up and held her tight as he carried her away from a heat that burned without touching.
She felt cool air on her back as he opened the window. Wind rushed in, blowing the drapes aside. The flames roared louder, rose higher. But her father  only looked out at the night sky. And down.
"Missus O'Neill! I'm dropping Maggie down to you!" he called. "Catch her now, mind. Catch my little girl." Then he looked deep into Maggie's eyes. "Missus O'Neill is down below with her arms out for you. I'm going to drop you down to her."
"Will she catch you too?"
But he just smiled and kissed her forehead. "Make a difference in the world, Maggie."
The sadness in his eyes filled her with a new terror. "But you're coming too?"
He smiled once more. "I am, as soon as I get the others out. Now , keep your eyes on mine, Maggie Mae. Keep your eyes on mine all the way down."
"Maggie and Daniel are well-developed characters with evident chemistry, and their relationship will hold readers' attention as they both work to reconcile their beliefs with their feelings for each other. It's an  engrossing  portrait of a chapter of Irish history that may be new to many readers. Comparable titles: Between Shades of Grey by Ruta Sepetys." PUBLISHERS WEEKLY BOOKLIFE
"A powerful, emotional story about love – love for one's country, love for one's family – and the need to stand up and make yourself heard, to make a difference. Something we all need to be aware of today. Through the Barricades is  nothing short of stunning  and I know it is a book I will re-read for many years to come.  5 Stars. " BOOKS OF ALL KINDS.
"Gripping, heartfelt story set in the heart of Ireland's most troubled time.  A book to remember." Author, KATE KERRIGAN. 
"In Maggie, Denise Deegan has created  a strong female character caught between her ideals and her heart." Author, MARTINA DEVLIN.
"Deegan captures all the emotion and drama of Ireland during the rebellion, and a world at war. A  thoroughly compelling  book." AUTHOR, HAZEL GAYNOR.
"Thought-provoking, heart-rending and uplifting, Through the Barricades takes a vivid look at the turmoil of events leading to 1916 through authentic and diverse eyes. It is  not to be missed." Bestselling author, RUTH FRANCES LONG.