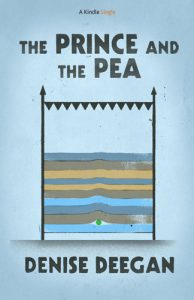 Prince Richard would rather be out riding his steed, Avanti, or learning how to light fires with a certain chambermaid than meeting the next haughty princess his father has lined up for him. But he has a duty – to marry and to marry well. Meanwhile, Princess Elizabeth will find her own prince. Her own way. Will true love find a way past duty?
Extract
The chambermaid curtsied and then gathered her tools with those wise fingers of hers. It occurred to Richard that he did not know the name of this girl who wished to bring warmth to his life. But she was already gone, off to breathe fire into hearths all about the castle.
The prince looked at the king and asked wearily, "What challenge do you have for this princess, Father?'"He rose from the royal bed and went to admire the fire. The flames danced as though in celebration of life.
"Ah!" the king said. "I have had a pea cleverly hidden. It shall be beneath her as she sleeps. Should she not complain of discomfort on the morrow, we shall know that she is unsuitable." The king rubbed his hands together as if he had indeed masterminded an ingenious plan.
Richard turned. '"What of tolerance, Father? Is that not a desirable trait in a princess?"
The king looked aghast. '"Richard, the world is teaming with impostors! We must be certain that any claims to royalty are valid. And, as you know, a true princess has certain… expectations."
'"Perhaps I would prefer to wed a person with relaxed expectations, Father."
'"What is that matter with you today, Richard?"
It was not that day but every day. '"Please, Father. Give this girl a chance. Forget the pea."
The king looked thoughtful. But not for long. '"I cannot, Richard. We have a kingdom to protect."
"Thoroughly gorgeous, an inspired reworking…. The writing flows just beautifully, the story has a lovely light humour in places that brings a smile to your face, and the perfect ending really warms your heart…loved every moment of it." BEINGANNE.COM
"The Prince and the Pea is ultimately a fairy tale but it also carries a very important message for all. Be yourself. Follow your dreams. Fulfil your destiny. Make your own path." SWIRL AND THREAD
"Romantic, sweet and uplifting… contains a lot of feeling in its short pages and when I finished the last sentence I couldn't wipe the smile from my face. A thoroughly enchanting story!" BOOKS OF ALL KINDS.
"… enchanting and sweet… exactly what a heart-warming romantic fairytale should be like." WITH LOVE FOR BOOKS.